A High Performance Stepped Attenuator
Tortuga Audio is developing a variant of its LDR (light dependent resistor) based LDR.V25 Preamp Controller as a drop-in replacement for practically any stereo audio volume control potentiometer or stepped attenuator.
We are calling it the LDRPot since it uses LDRs and is a direct replacement for a typical stereo potentiometer.
The LDRPot uses high peformance audio grade LDRs that provide a level of sound quality that is wonderfully open, natural, uncolored and about as true to the music at you can get.
Panel Mounted
The LDRPot has an integrally mounted encoder with a threaded shaft and nut that can be through-hole mounted in the front panel of your enclosure the same as you would a volume potentiometer.  Add a control knob of choice to the 6 mm shaft, connect the stereo signal wires and a low current source of power (7-30 volts DC) to the LDRPot's screw terminals and you're good to go.
Small Size – 2.9 x 1.3 x 0.75 inch
The current prototype (circuit boards layout images shown below) is only 2.9 inches long by 1.3 inches wide not including the length of the encoder shaft that protrudes beyond the boundary of the circuit board. The overall thickness will likely be no more than 0.75 inches including the plug-in LDR Module board. We believe this size will fit into most existing preamplifiers or integrated amplifiers as well as most DIY projects where a stereo volume control is required.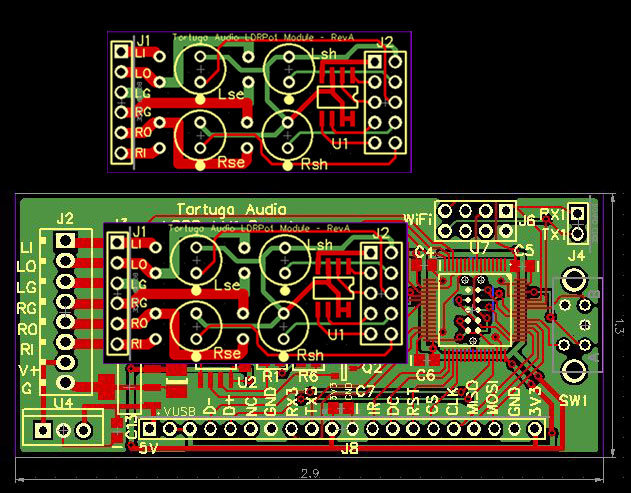 The 2-dimensional image below shows the larger LDRPot Main board along with the smaller plug-in LDRPot Module above it. The LDRPot Module is also shown again superimposed on top of the LDRPot Main board. This image below is approximately to scale (at least it was very close when we drafted this and checked it on our web browser).
Plug-In LDR Module
A plug-in replaceable LDRPot Module plugs directly into the LDRPot Main board. The LDRPot Module contains the 4 LDRs needed for stereo channel attenuation. Each LDRPot Module also has a small EEPROM memory chip that contains the measured performance curves of each LDR. You can think of each LDR Module having a unique personality that's been measured and stored in the memory chip. The LDRPot microcontroller uses the memory chip data when adjusting volume. If you change out an LDR Module, no problem, the LDRPot microcontroller uses the new data of whatever LDR Module is currently installed. The LDR Modules has 6 pins on one end  and 10 pins on the other. These plug into matching sockets on the LDRPot Main board. Sockets and pins are both plated in gold for perfect contact and signal integrity.
A Very Smooth Stepped Attenuator
With 100 attenuation steps (plus mute) over a 60 dB control range the LDRPot provides a very smooth 0.6 dB per step volume control. Referring to the LDRPot as a stepped attenuator is somewhat of a misnomer since each control step is in fact a continuous change from the prior step much like a potentiometer. There is no physical switching and no necessity for make-before-break. Each of the 100 steps actually represents a calibration point over the 60 dB control range. As volume is raised and lowered the LDRPot moves smoothly and continuously from one calibration point to the next with no noise or audible artifacts.
Easy To Connect & Use
The use the LDRPot, connect your left and right channel input, output and signal ground wires just as you would to any potentiometer or a stepped attenuator. T Then also connect a source of DC power (including power ground)  with a voltage range anywhere between 7 and 30 VDC. he LDRPot has a set of screw terminals available to make all these connections.  The LDRPot has a  flexible high efficiency 5V  DC-DC converter followed by a low noise 3.3V linear regulator. Power consumption is quite low, probably well below 0.1A (100 ma) . Then press/release the encoder pushbutton to turn the LDRPot on. Press it again to mute the LDRPot which is really the same thing as turning it off. That's it!
Select Your Impedance
The attenuator impedance is set by the plug-in LDR Module which is available in 10k, 20k, 50k and 100k impedance settings. If you decide you need to change impedance, you just have to swap LDR Modules.
Remote Control (optional)
The LDRPot comes with remote control capability. All you need to do is connect the appropriate IR receiver to the LDRPot board, buy a $20-25 Apple remote, pair the remote with the LDRPot and now you're good to go with controlling the LDRPot remotely from the comfort of your chair.
Channel Balance Adjustment (with remote only)
Once you have remote control, you can use the remote to adjust left/right channel balance.
OLED Display (optional)
Further enhance the functionality and your enjoyment of the LDRPot by adding a 256 x 64 pixcel white graphic OLED (Organic Light Emitting Diode) display. This capability if already build it. You just need to purchase a Tortuga Audio OLED Display Module,  connect it to the LDRPot via simple square pin cable and now you have a very slick volume control complete with visual feedback.
For DIY and OEM
We hope the LDRPot will be of interest to both the audio DIY community and also OEMs who may be looking for an alternative to conventional volume control but are not happy with the issues and limitations of conventional stepped attenuators.
Pricing & Availability
Since the LDRPot is still in development we have not set firm pricing yet. Volume discounts will likely be available. A firm release date has not been set but we anticipate availability in early 2020.
LDRPot.V1 vs. LDR.V25
The LDRPot is a close derivative of the V25 preamp controller. In fact the LDRPot has certain design features that are ahead of the V25 including a significantly modified LDR control scheme that uses a more precise current control rather than the older voltage control design. The LDRPot also employs 16 bit resolution control rather than the 12 bit resolution used by the V25.  Other similarities and differences are summarized in the table below.
| Product Criteria Value | LDR.V25 Preamp Controller | LDRPot.V1 Stepped Attenuator |
| --- | --- | --- |
| Attenuation Range | -60 to 0 dB | Same |
| Number of Steps | 99 plus mute | Same |
| Remote Control | Required. User must locate IR receiver external to the board. | Not required but functionality is built-in if user connects an appropriate IR receiver to the board. |
| Encoder (manual volume control) | Separate device mounted off the board (typical front panel). | Encoder is integral and comes soldered to the board. |
| Mounting | Board must be mounted to a chassis/base via 4 corner standoffs. | Mounted similar to a potentiometer or conventional stepped attenuator typically via a through-hole in an enclosure front panel. |
| Replaceable Plug-in LDRs | Yes - individual LDRs | Yes but each LDR module has 4 fixed LDRs plus a small personality chip. The LDR module plugs into the LDRPot main board. |
| Input Impedance | User adjustable- up to 10 settings between 1-99k each under user/firmware control | Fixed - Each 4-LDR module comes with a fixed impedance level of 10k, 20k or 50k, |
| Channel Balance | Yes - via remote. | Same |
| Input Selection | Yes. Built-in input switching for up to 6 stereo sources. | No. |
| Display | Required: 7 segment or OLED | Optional: OLED only |
| Controllable via External UART Commands | Yes | Yes |
| LDR Control | Voltage controlled | Current controlled (more precise) |
| LDR Calibration | Yes. Built-in. | No. |
| Control Precision | 12 bit resolution | 16 bit resolution |