2.4.
Encoder Controls
The Rotary Encoder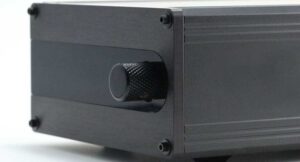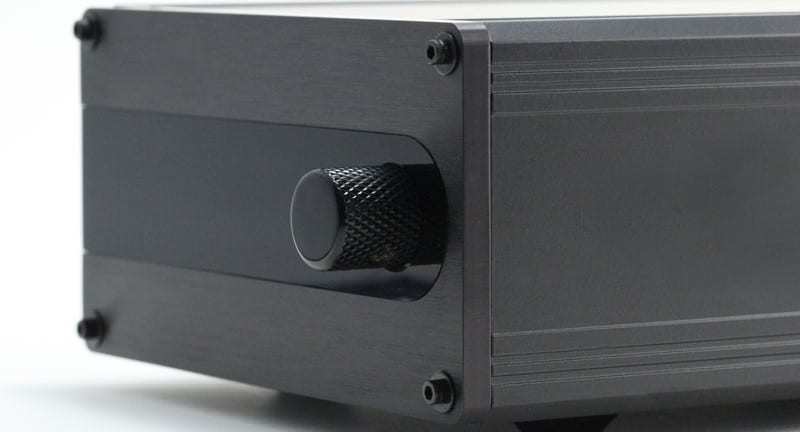 In addition to having remote control, all Tortuga Audio preamps are also controllable via a control knob on the front panel.
Unlike conventional preamps which use a potentiometer, the control knob on a Tortuga Audio preamp is attached to a rotary "encoder". An Encoder is special type of rotary switch which generates switching impulse patterns which differ whether its turned clockwise or counter-clockwise. These switch impulse signals are interpreted by the preamp's control unit to raise or lower volume etc. The Encoder is also equipped with an integral push button.
Also unlike a conventional potentiometer, the Encoder has no hard stop rotational limits. It will turn an infinite number of times in either direction. Going from zero to full volume will take approximately 2 full rotations of the Encoder. It's possible to spin the Encoder faster than the control system is capable of detecting. Continuing to turn the encoder in the same direction once volume has reached minimum or maximum levels serves no useful purpose but is not harmful.
Encoder Control Functions
The Encoder has the following functionality:
Power On:  When unit is off, a momentary push/release of the Encoder will turn the unit on.
Power Off:  When the unit is on, a push/hold for between 2-5 seconds followed by release will shut the unit off.
Mute: When the unit is on and Un-Muted, a momentary push/release will Mute the unit.
Un-Mute:  When the unit is on and Muted, a momentary push/release will Un-Mute the unit.
Volume Raise/Lower:  Turning the encoder clockwise will raise the volume while turning the encoder counter-clockwise will lower the volume. Once zero or max volume is reached, continuing the turn the Encoder in the same direction serves no purpose.
Input Select:  For units with multiple inputs, a push/hold while also turning the Encoder (left or right) will put the unit into Input Select Mode and allow selection of the desired input by turning the encoder. The selected input will take effect upon release.
Remote Pairing:  A push/hold of the Encoder for greater than 20 seconds followed by release will place the unit into Remote Pairing Mode. Subsequent pressing of any key on a compatible remote will "teach" the unit the ID the remote and thereafter the unit will respond to that remote.  Remote Pairing Mode can only be enabled with the Encoder.  Please refer to the section above on Remote Pairing for more detail.
Auto Calibration Start/Stop:  When unit is off, a quarter-half clockwise turn will toggle Auto Calibration on or off (introduced with V2 software build 1.1.2 on 7.15.14).